Barbecue sauce and bacon mixed into the beef before grilling produces an incredibly juicy burger. Burgers are the perfect canvas for individualism, so feel free to add any or all of your favorite condiments. No bun necessary! They're that good.
Serving size: 4
Ingredients:
1 pound grass-fed, ground beef
4 slices cooked bacon, chopped, cooking fat reserved
¼ cup Smoky Barbecue Sauce (see below the photo)
½ teaspoon Dijon mustard
¼ teaspoon chili powder
¼ teaspoon sea salt
⅛ teaspoon paprika
Directions
Preheat a grill to medium-high heat. Or simple heat a pan to medium-high heat on your stove.
Combine all the burger ingredients in a bowl and form into 4 patties, about 1-inch thick.
Grill the burgers over direct heat for 2 minutes on each side then move them to a lower-heat area of the grill. Continue cooking the burgers another 2-3 minutes for medium-rare burgers, 3-4 minutes for medium, or 5-6 minutes for well-done burgers. Serve with additional barbecue sauce, if desired.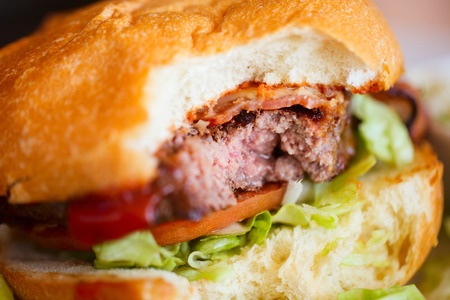 Smoky Barbecue Sauce
Spicy, tangy, and a little smoky: this barbecue sauce is everything a good barbecue sauce should be. Plus, it has all the flavor complexity of being smoked for hours, but takes only 30 minutes. I especially appreciate that there is no refined white sugar and you can control the level of sweetness. I double this recipe and freeze half for later use.
Yields: 1½ cups
Ingredients:
1 cup tomato puree
¼ cup honey
¼ cup white vinegar
2 tablespoons tomato paste
1 tablespoon coconut aminos
1 teaspoon fish sauce
¾ teaspoon natural liquid smoke
½ teaspoon sea salt
½ teaspoon paprika
½ teaspoon chili powder
½ teaspoon Dijon mustard
¼ teaspoon cayenne pepper
¼ teaspoon minced garlic
¼ teaspoon onion powder
¼ teaspoon allspice
¼ teaspoon cracked fresh black pepper
Directions
Place all the ingredients in a saucepan set over medium-high heat and whisk to combine.
Bring to a boil, then reduce the heat and simmer for 30 to 40 minutes, until the sauce has reduced by about half.
Bring to room temperature before storing in the refrigerator for later use.
(Adapted from: Against All Grains by Danielle Walker.)
MAGGIE CHRISTOPHER, Holistic Nutrition Counselor & Licensed Therapist, provides a safe environment to explore the emotional reasons for the eating habits that prevent you from reaching your health goals. She offers step-by-step guidance and delicious recipes which support you in introducing whole natural foods that promote health, calm cravings, and allow you to feel satisfied. For a free nutrition consultation visit www.maggiechristopher.com or call 651.231.1360.