Meet the Team:
Get to know Kathy Schoenberger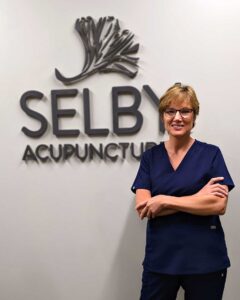 SA: What brought you to a career in Traditional Chinese Medicine?

KS: I was seeking a career change that would allow me to help people, which I find personally rewarding. I turned to holistic medicine to deal with some of my own health issues, discovered Chinese Medicine along the way and knew it was something I wanted to practice.

SA: What do you like most about being an Acupuncturist?

KS: What I like most about being an Acupuncturist is really connecting with patients, getting to know them as individuals, discovering what will most improve their health within TCM and benefiting from their experiences and wisdom.

SA: When you're not working what brings you joy?

KS: What brings me joy is being outside in nature. I love to hike somewhere surrounded by trees, or bike on a trail alongside a river or lake.

SA: If you could do anything you wanted tomorrow without limitations, what would that be?

KS: If I had no limitations I'd love to do some extended traveling. I've always wanted to see Croatia and Slovenia and get back to Greece!
Read More
Read More
---