Our Lunchtime Educational series continues On June 10th.
This month's talk will be "A Journey Through the Soul According to Chinese Medicine!
Join Molly to learn about the five types of souls or spirits according to the tradition of Chinese medicine.   Have you ever heard the terms the Hun and the Po?  Curious about the idea the heavenly spirit joining with the earthly spirit to create conception?  Want a new perspective on willpower and thinking?  Molly will introduce you to these concepts and more.  This rich tradition offers us another way to understand and look at who we are in our world.  We promise, this is going to be a super interesting and fun talk!
Meet the Team, Get to know Joanna Willis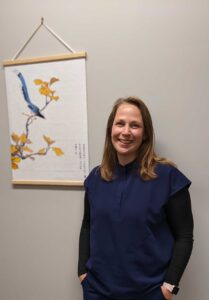 Joanna:
SA: What Brought you to a career in TCM?

JW:

A lifelong interest in health and medicine set the foundation for the light bulb moment when I got acupuncture for the first time myself. It fascinated e how effective those little needles could be, and after that I was hooked.
SA: What do you like most about being an Acupuncturist?

JW:

Working with people; I love getting to know my patients and its an honor to witness their healing. Also, fire cupping, because it's fire!
SA: When you're not working, what brings you joy?

JW:

Music, movement, meditation, moments. Flora, family, food with flavor. And fire 🙂
SA: If you could do anything you wanted tomorrow without limitations, what would that be?

JW:

Fly to Kauai!
Announcing our newest provider:
Starting mid-June Kathy Schoenberger will be joining us as our newest Acupuncturist!
Kathy Schoenberger is licensed in Acupuncture by the State of Minnesota Medical Board, and board certified in Acupuncture by the National Certification Commission for Acupuncture and Oriental Medicine (NCCAOM). Kathy earned her Master's degree in Acupuncture and Oriental Medicine from the American Academy of Acupuncture and Oriental Medicine in Roseville, MN, where she completed an internship at Fairview University Hospital. She received an MBA from the University of Southern California, and a Bachelor's degree in Economics and Computer Science from the University of St. Thomas in Minnesota.
Kathy will be accepting appointments in our Edina clinic beginning June 14th.