This is my great-grandmother's sauce recipe, which has been passed down and perfected over many generations and is offered here with a few Paleo modifications. There are two secret ingredients: cinnamon and a pork steak. The pork steak, which I admit is an unusual ingredient for spaghetti sauce, simmers with the sauce and makes it stand head and shoulders above the myriad of store-bought sauces and even other homemade versions. The story goes that the men in Granny Sarella's family used to fight over who got to eat the pork steak after it was pulled out of the sauce – so don't discard it!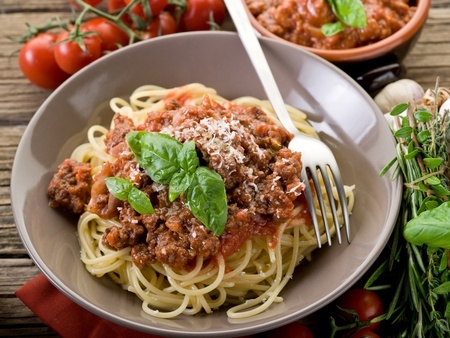 ---
Ingredients
¼ cup extra-virgin olive oil, divided
1 pound grass-fed ground beef
1 pound pastured pork steak, bone in
½ cup chopped onion
2 cloves of garlic, minced
1 cup water
28 oz. tomato puree
2 tablespoons tomato paste
1 tablespoon honey
1 tablespoon dried oregano
1 ½ teaspoon sea salt
1 teaspoon fresh basil, chopped
¼ teaspoon black pepper
10 sprigs fresh parsley, chopped
¼ teaspoon cinnamon
Method
Place 2 tablespoons of the olive oil in a large stockpot over medium-high heat. Add the beef and pork steak and brown.
Remove the meat and drain the grease from the pot. Add the remaining olive oil and the onion and garlic. Sauté for 5 minutes, until fragrant and softened.
Return the meat to the pot. Add 1 cup water, tomato puree, tomato paste, honey, oregano, salt, basil, and pepper. Simmer, uncovered, for 3 hours on medium low. This simmering step can also be done on low in the slow cooker if you prefer. Stir in the parsley and cinnamon during the last 20 minutes of cooking.
Remove the pork steak before serving.
I recommend serving the sauce over spaghetti squash or "zoodles" (spiraled zucchini). This recipe freezes well, so you may want to consider doubling it.
---
Source: Against All Grain cookbook by Danielle Walker
MAGGIE CHRISTOPHER, Holistic Nutrition Counselor & Licensed Therapist, provides a safe environment to explore the emotional reasons for the eating habits that prevent you from reaching your health goals. She offers step-by-step guidance and delicious recipes which support you in introducing whole natural foods that promote health, calm cravings, and allow you to feel satisfied. For a free nutrition consultation visit www.maggiechristopher.com or call 651.231.1360.