The seasoning on these chips makes them irresistible! Try these instead of potato chips at your BBQ. Or double the batch and keep them around for snacking in between summer activities.
One large bunch of kale
2 T ground cashews
1 T nutritional yeast
Olive Oil
— Wash and dry kale.
— Remove leaves from stem and massage leaves with olive oil.
— Mix the yeast and ground cashews together and sprinkle on kale leaves.
— Roast at 400 degrees until crispy, about 10 minutes.
Note: Nutritional yeast is available in the bulk section of health food stores.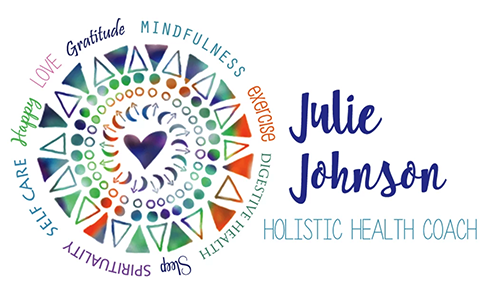 JULIE JOHNSON, Holistic Health Coach, helps clients reach wellness goals through nutrition and life balance. She offers individual coaching or group coaching sessions that support health through whole food nutrition. Clients will receive guidance, recipes, and cooking sessions to make sustainable lifestyle changes. For a free consultation, visit Julie Johnson Health Coach.