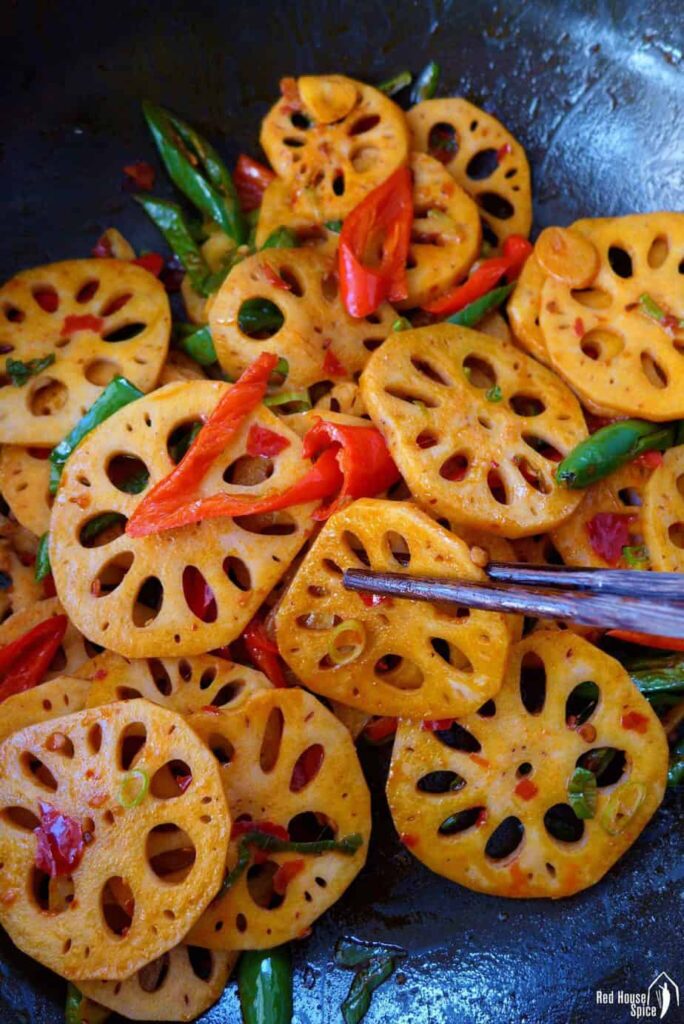 Lotus root is a popular vegetarian ingredient used in Chinese cuisine.  Considered a food, it is also used as an herb medicinally in Traditional Chinese medicine.  It contains powerful antioxidants, and may reduce inflammation.  Although named a "root", it is actually a rhizome. It is a continuously growing horizontal underwater stem of the lotus plant that grows in connected, cylinder-shaped segments (like giant linked sausages). When cut crosswise, you will see a "rotary dial phone" pattern which makes this ingredient extra interesting.
Lotus root has a slightly sweet and earthy taste with a crunchy texture when briefly blanched or stir-fried. If simmered in liquid for a long period, it turns soft and tender, like the texture of a boiled potato. Low in calories and high in fiber, lotus root can be cooked in many ways.
To prepare lotus root, cut off the hard end pieces and peel off the outer skin with a vegetable peeler. In most cases you would then cut crosswise in quarter to half inch thick pieces to produce disks with the interesting pattern of holes. However, in some classic lotus root dishes, such as hot & sour lotus root you would find it diced into small cubes. For this recipe I prefer to cut it crosswise.
Ingredients:
½ cup water divided
¼ cup soy sauce (regular or reduced sodium)
1 tbs tomato paste
2 tsp Chinkiang vinegar or Balsamic if not available
2 tsp sugar
¼ – ½ tsp crushed red pepper
2 cups lotus root cleaned and sliced
1 tsp cornstarch
2 tbs olive oil divided
4 cups green beans trimmed and cut
6-8 serrano chili peppers, sliced and seeded
4 garlic cloves minced
2 tsp fresh ginger minced
Preparation
Bring a pot of water to a boil. Blanch the lotus root slices for about 2 mins then drain well. In Chinese, this process is called Duan Sheng/断生 meaning "break the rawness".
Whisk 1/4 cup water, soy sauce, tomato paste, vinegar, sugar, crushed red pepper to taste and 1 teaspoon cornstarch in a small bowl. Set aside.
Heat 1 tablespoon oil in a wok or large skillet over medium-high heat. Add the lotus root and spread out across the surface of the pan. Let cook undisturbed for 2 minutes. Gently turn and stir. Continue cooking, stirring occasionally, until lightly browned and crispy, 2 to 3 minutes more. Transfer to a plate.
Reduce heat to medium. Add the remaining 1 tablespoon oil to the pan. Add green beans, peppers, garlic, and ginger; cook, stirring constantly, for 1 minute. Add the remaining 1/4 cup water, cover, and cook until the beans are crisp-tender, 2 to 4 minutes. Stir the soy sauce mixture and pour it over the green beans. Cook, stirring, until thickened, about 1 minute. Add the lotus root and cook, stirring, until heated through, about 1 minute more.
recipe by Bruce  (our amazing in house chef)