This recipe is E-A-S-Y and satisfying! Add a dollop of low-sugar barbeque sauce and serve with a side of cole slaw. Courtesy of Maggie Christopher, Holistic Nutrition Counselor & Licensed Therapist.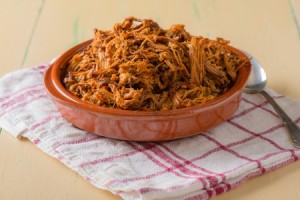 Ingredients
1 boneless pork butt or shoulder (about 3-5 pounds)
2 large sweet onions, peeled and sliced thin
4 cloves garlic, peeled and crushed
1 tablespoon paprika
1 tablespoon sea salt
1 teaspoon ground black pepper
½ teaspoon crushed red pepper flakes
½ teaspoon dry mustard powder
¼ teaspoon cayenne pepper (optional)
¼ cup honey
¼ cup cider vinegar
1 cup chicken stock
Directions
Toss all the ingredients into your slow cooker. Cook on low for 10 to 12 hours.
When tender, remove from the slow cooker, shred, and serve.
You will have plenty of liquid after it has finished cooking. I store the meat in this liquid to keep it moist. This recipe freezes well too.
MAGGIE CHRISTOPHER, Holistic Nutrition Counselor & Licensed Therapist, provides a safe environment to explore the emotional reasons for the eating habits that prevent you from reaching your health goals. She offers step-by-step guidance and delicious recipes which support you in introducing whole natural foods that promote health, calm cravings, and allow you to feel satisfied. For a free nutrition consultation visit www.maggiechristopher.com or call 651.231.1360.