This Indian dish tastes like it has been simmering for hours, but it goes together quickly. If you need a last-minute dinner for your family, give this a try. If you're new to using garam masala, co-ops sell spices in the bulk section, and they carry this blend.
Servings: 8 servings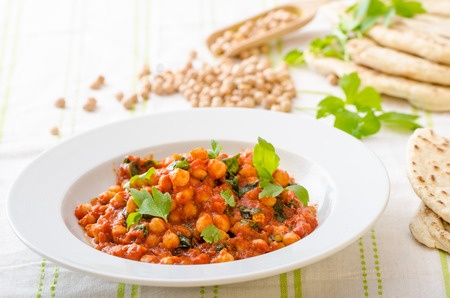 Ingredients:
6 T coconut oil or olive oil
1 large red onion, chopped
3 T finely chopped fresh ginger
6 large cloves of garlic, chopped
2 T curry powder
2 tsp. garam masala
1/8 tsp. cayenne (omit if you want it mild)
1 tsp. sea salt
two 15oz cans of chickpeas, drained
two 14.5oz cans of diced tomatoes
6 packed cups of baby spinach
½ cup of chopped cilantro
Directions
Heat the oil in a large pot over medium heat and sauté the onions, ginger, and spices for 3-4 minutes. Then add the garlic and sauté 1-2 minutes more. You want the onions to be soft.
Stir in the chickpeas, tomatoes, and salt.
Add the spinach by the handful, stirring as it wilts.
Continue to cook, stirring often until the spinach is completely wilted and the flavors have melded, about 4 to 5 minutes more. Season to taste with more salt.
Remove from the pot and stir in the cilantro.
MAGGIE CHRISTOPHER, Holistic Nutrition Counselor & Licensed Therapist, provides a safe environment to explore the emotional reasons for the eating habits that prevent you from reaching your health goals. She offers step-by-step guidance and delicious recipes which support you in introducing whole natural foods that promote health, calm cravings, and allow you to feel satisfied. For a free nutrition consultation visit www.maggiechristopher.com or call 651.231.1360.