Annoyed that you can't see all your scheduled appointments in one place?  Wish you could access your account details easily?  We are too.  Consider this just some of the perks to the upcoming Patient Portal.  Launching July 13th:
We are so excited to share our new patient portal with you. Now, booking and managing your appointments with us will be easier than ever. Once you create a patient portal account you will simply log in to book, view, edit and manage your appointments. All of your information will be in one place so no need to worry about searching through emails to complete any outstanding forms or verify appointment details. Update your personal information, save your credit card information and more all within your account.
Patient Portal FAQ:
What does the question "Have you been to any of our clinics before" when booking an appointment mean?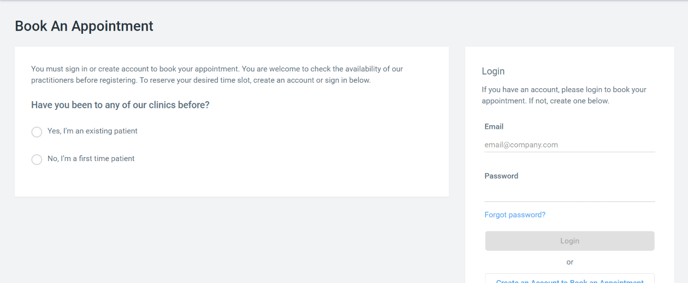 This question is asking if you have received treatment in any of our clinic locations before.
Choose: Yes if you are a current or past patient that we have seen within the last year at one of the clinics and a list of available services will populate.
Choose: No if you have never been to or been treated by this clinic before or have not had an appointment in the last year. This will display all the services offered to new patients.
---
Can I select services and/or practitioners without choosing a location?
Because services and practitioners may vary by location, a location must be chosen when booking. You can then select your service(s) and practitioner or the no preference option.
---
How do I know how much a service costs?
Service prices can vary by practitioner. If you are going through insurance and we are in network with your insurance provider we can help you determine your out of pocket costs. If you want to know how much each service will cost, you may contact our clinic for pricing information.
---
How can I register as a user/patient in the Patient Portal?
There are four ways you may register for a patient portal account.
You can use the link in the invite emailed from the clinic. (Please contact the clinic to receive an invitation email.)
You can use the Register button from the clinic's booking page and follow the verification email sent.
You can register by clicking on the Manage My Appointment or Complete Forms button from an appointment notification email.
You can register after selecting a desired appointment slot.
To create an account in the patient portal you must book an appointment or respond to an invite from the clinic. To register by booking an appointment, simply book your appointment and follow the instructions to create an account after booking. To register via clinic invite, follow the links and instructions in the email from the clinic (example below).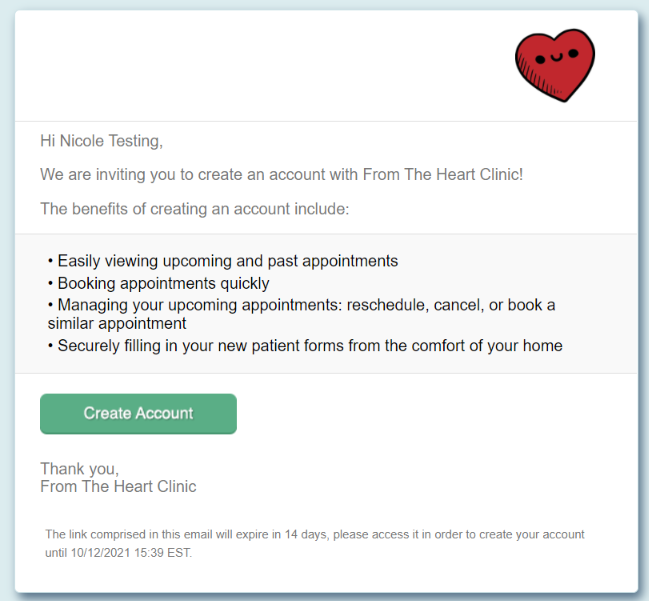 ---
I cannot login, what do I do?
If you cannot login simply click on Forgot Password and enter the same email address you used for registration. If you use a different email address, your account will not be found. If you follow the instructions to retrieve your password and do not see an email, be sure to check your Spam folder. You might receive one of the two emails:
An Invite email: This email will be sent if your registration was incomplete and will allow you to create a password and finish the registration process.
An Access the Account or Reset Password Link email: This email will be sent if the account is active and you cannot log in.
If you do not see an email in your inbox or spam, this means the email address entered does not match the address used to register the account. Please contact the clinic to retrieve the email address you have on file.
---
How can I complete the forms?
There are two ways to complete forms:
Click on the Complete Forms button from the appointment confirmation email and register/login to access your patient account and fill out your forms.
Login directly to the portal and go to My Forms tab.

---
Is a Patient Portal account mandatory to complete forms or book an appointment?
Yes, the Patient Portal is how you will access and complete your forms prior to your appointment. A patient portal account is needed to book an appointment. However, you may check a clinic's offerings and availability without an account. After selecting your desired service and time slot you can finalize your registration.
---
How can I manage my appointment (cancel, reschedule)?
There are two ways you can manage your appointment:
Click on the Manage My Appointment button from the appointment confirmation email and register/login to access your patient account.
Login directly to the portal and go to My Appointments page.

---
Is a Patient Portal account mandatory to manage my appointments?
Yes! In order to manage, update, modify, or cancel an appointment, you will need to log into your Patient Portal account.
---
How can I change the email address used for registration?
You will need to contact the clinic to change your email address.
---
How can I change my personal information?
You can change your personal information by navigating to the My Forms tab and selecting Patient Information. Even if the form is already completed, you can update the information listed at any time.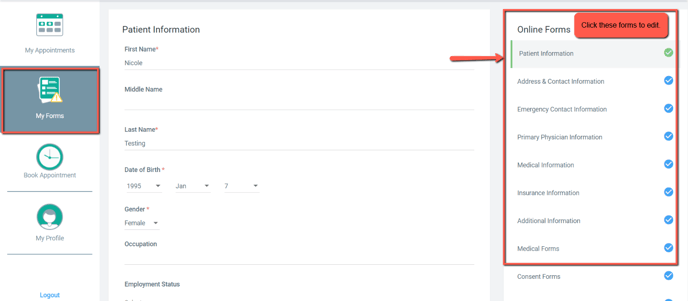 (Click image to enlarge)
---
How can I change the medical information completed in onboarding forms?
You will need to contact the clinic to make changes to medical questionnaires. The medical questionnaires form, once completed, cannot be updated by the patient.
---
Can I use Patient Portal on my mobile phone?
Yes! The Patient Portal can be used on any device with an internet connection.
---
After selecting a desired appointment slot, do I lose the selection if I don't have an account created?
No, the slot is saved for a short time while you register for your account.  If you do not register right away, another patient may take this appointment time.  To retain your selected time, complete the registration process as soon as possible. You may, however, move from one device to another to complete your registration as the selected appointment time will be connected to your registration email.
---
Why did I receive an email asking to contact the clinic for creating an account?
This means that based on the email address alone we could not match your account to the clinic information on file. The clinic can send you an invite email to create the account upon providing your personal information to them directly. Please contact them to finish your account registration.
---
Why for some appointments I do not see the Cancel and Reschedule buttons, but for others it is available?
We have set a 24 hour policy for online changes to an appointment that prevents you from canceling or rescheduling yourself within 24 hours. This is based on the notice we need to fill appointment slots and notify practitioners of schedule changes. Please contact the clinic by phone or email to cancel or reschedule if you do not have the ability to cancel or reschedule.